Wander Women offers supportive, empowering wilderness adventures for women of all ages, cis and trans women, and non-binary people who are comfortable in a space that centers women.
Operating out of Portland, Oregon, our backpacking trips explore the great Pacific Northwest.  Who are Wander Women? They are women who want to wander the wilderness, learn new outdoor skills, and enjoy the uplifting camaraderie of other women. Come on an adventure with us to laugh, learn, connect, reflect, and grow! No matter your experience level, a Wander Women trip will be a fun, energizing, and empowering way to invest in yourself and experience the wilderness. We can't wait to meet you!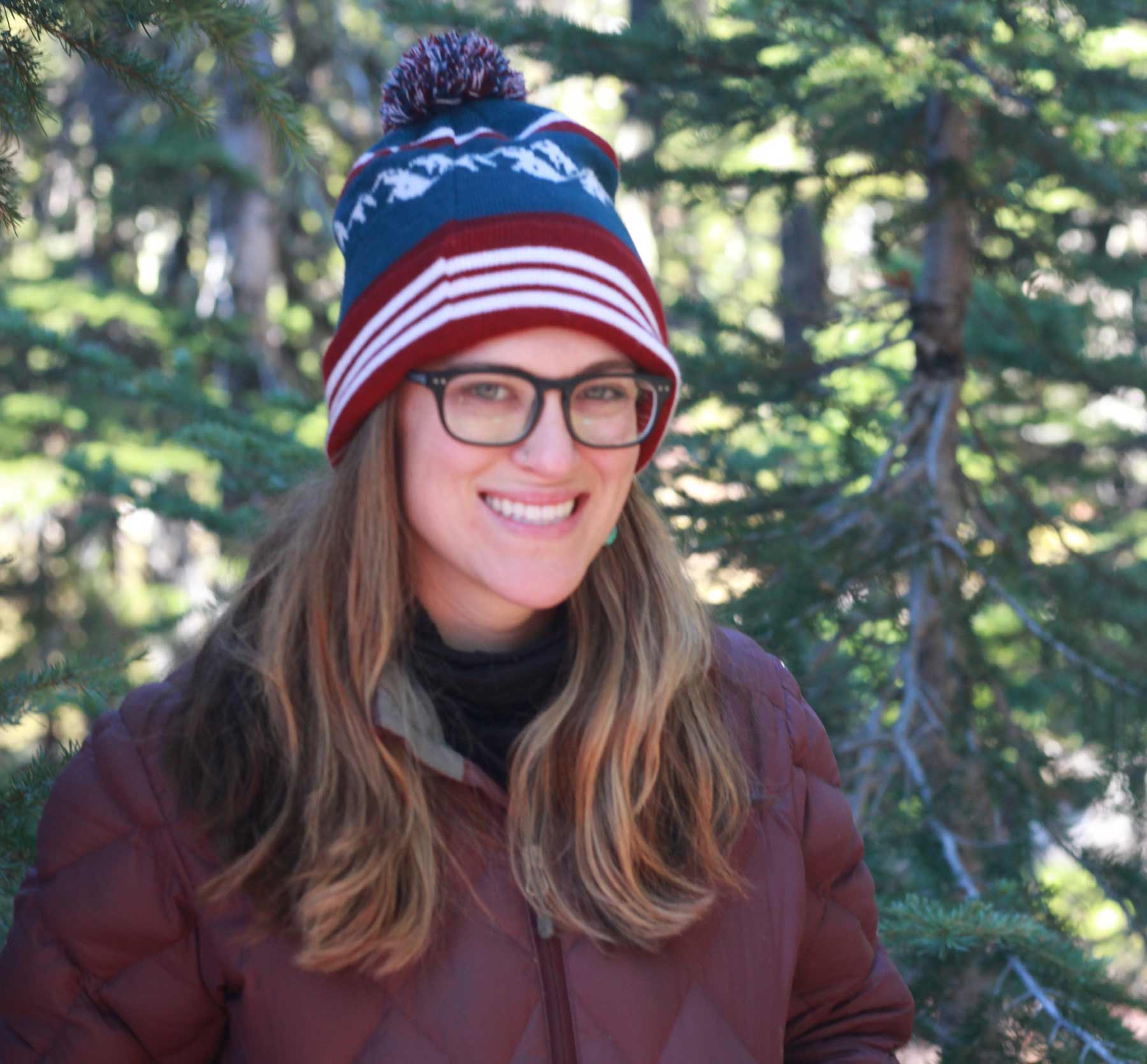 Hi, I'm Kori
For me, spending time in the great outdoors is energizing, centering, empowering, and peaceful. I have 20 years of professional experience working in the outdoors, and in recent years I have developed my passion for teaching outdoor skills and sharing my love of wilderness adventures with others – especially other women. In nature, I find that groups of women in can empower, support, teach, and laugh together in ways that are truly special, and I want to share that with you. I founded Wander Women to create a place for women to gain experience and ease in nature while connecting with each other away from the norms and expectations of every-day life.
When I'm not in my tent (ok, I'm not really in my tent quite as often as I'd like to think), I live in Portland with my husband and cat Hamlin. I enjoy all manner of outdoor activities, but I find the most joy in backpacking, flatwater kayaking, trail running, and nordic skiing. I love these activities because they are meditative when done alone, and when done with friends allow for ample conversation and laughter. What more could you want!?
I grew up in the Pacific Northwest, and first learned to love the outdoors from my family. My parents fell in love while hiking the Continental Divide Trail in Colorado, and they made all our childhood trips feel like grand adventures. After high school I headed to the Midwest where I studied Biology, Biochemistry, and Spanish while spending my summers working at outdoor camps. I had a wonderful experience, but after four years I was ready to come back out west. I attended graduate school in central Washington to study amphibians and genetics, all the while venturing into the mountains whenever possible. After working some seasonal outdoor jobs, I took a position managing a forestry research lab at Oregon State University. In 2015 I took my love of biology and nature in a new direction, as the manager of the outdoor program at Lewis & Clark College in Portland. When I'm not on a Wander Women adventure, I teach outdoor skills to college students and manage the college's varied array of outdoor trips.
I am a NOLS Wilderness Medicine certified Wilderness First Responder. I also have training in Leave No Trace principles (Center for Outdoor Ethics), Psychological First Aid (Responder Alliance), professional driving (Alert Driving), and a food handling (Multnomah County).
I can't wait to have an adventure with you!
– Kori Campbell (she/her)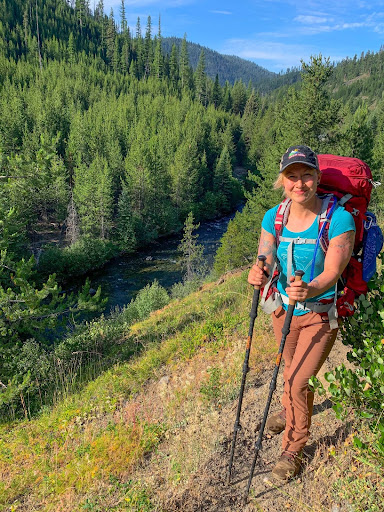 Hi! I'm Aubry
My passions are teaching, connecting people with one another, and connecting people with the outdoors. I love how empowering it can be for women to spend time in the wilderness together.
I grew up in Utah where I first began backpacking and hiking. When I moved to the PNW it was a whole new world of hikes and waterfalls, but I found I didn't have any friends who enjoyed the outdoors in quite the same way that I wanted to explore. I found Wander Women Adventures and was able to meet amazing women and see landscapes I didn't know existed in this area.
I am a NOLS Wilderness Medicine certified Wilderness First Responder. I also have training in Leave No Trace Principles (Center for Outdoor Ethics), Psychological First Aid (Responder Alliance), and food handling (Multnomah County).
In my time away from the mountains I am a licensed massage therapist and love practicing yoga and meditation. I also enjoy paddleboarding, traveling, dancing, music, cooking, baking, sitting around reading a good book, and spending time with friends and my animals. I'm always up for trying new things and exploring new places. I'm so excited to guide you through the wilderness of the great Pacific Northwest! – Aubry Jones (she/her)
What does it mean to be a wander woman?
A Wander Women trip is an adventure! Trips are designed to challenge you at a level that is both fun and empowering. In the wilderness, there is always something to learn and every day brings a new adventure. Each trip is tailored to the interests, fitness level, and experience of the participants.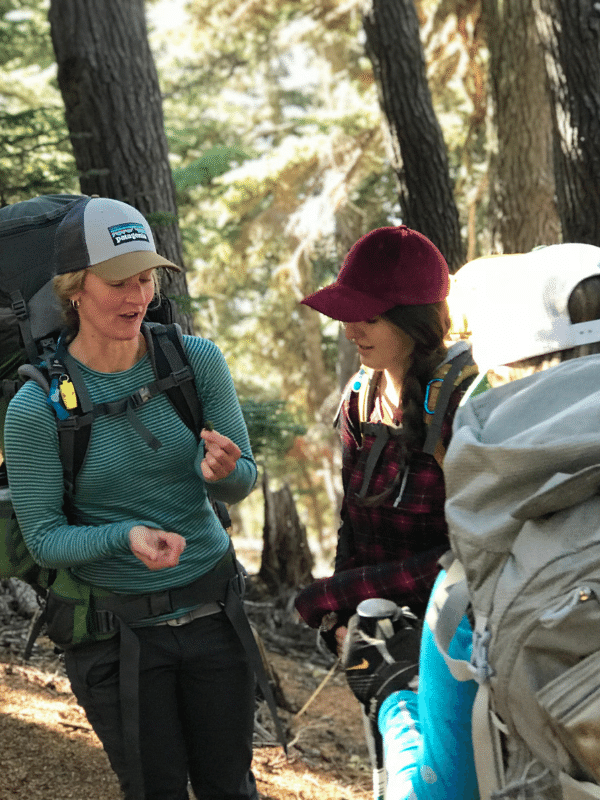 Wander Women Learn
Whether you are a wilderness junkie or an outdoor newbie, a Wander Women trip will be an opportunity to learn something new. If you have never been camping, we will teach you everything you need to know. We provide detailed packing lists with tips and tricks, host a pre-trip meeting to help you pack and give gear advice, and we give hands-on experience with a variety of "camp craft" activities from backcountry cooking to map reading.  As a trained Biologist, Kori loves to geek out about the environment, which serves to deepen our connection to nature during the trip experience. If you are an experienced outdoorswoman, you already know that adventures with a new group of people always expand your knowledge. With Wander Women trips, you can expect a balance of teaching, adventuring, and relaxing tailored to the culture and experience level of each group.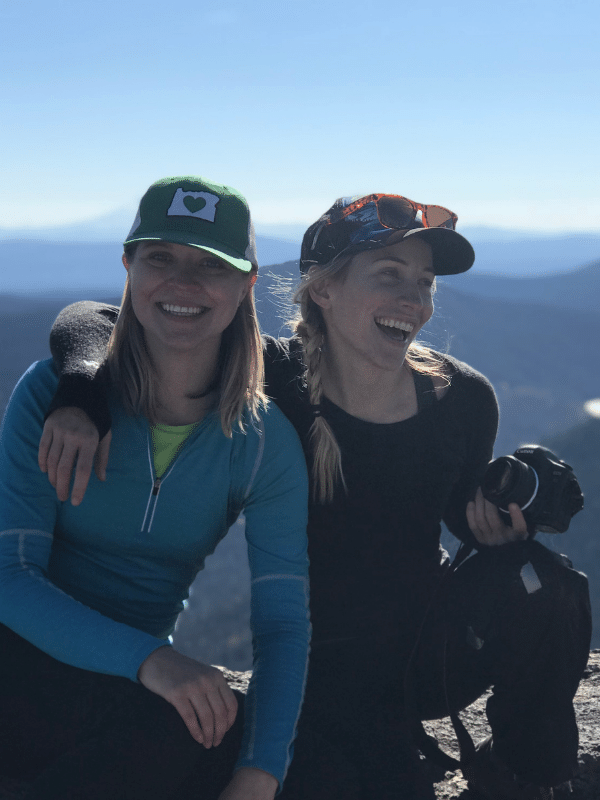 Wander Women Laugh
The fun company of other women and the relaxation of nature never fail to bring out contagious laughter! Add in the inevitable challenges and unpredictable absurdities of wilderness travel, and hilarious jokes are bound to emerge. When you step away from the routine of everyday life, all you have to worry about is walking, eating, and sleeping. This blissful simplicity, combined with a friendly community, encourages free and easy laughter.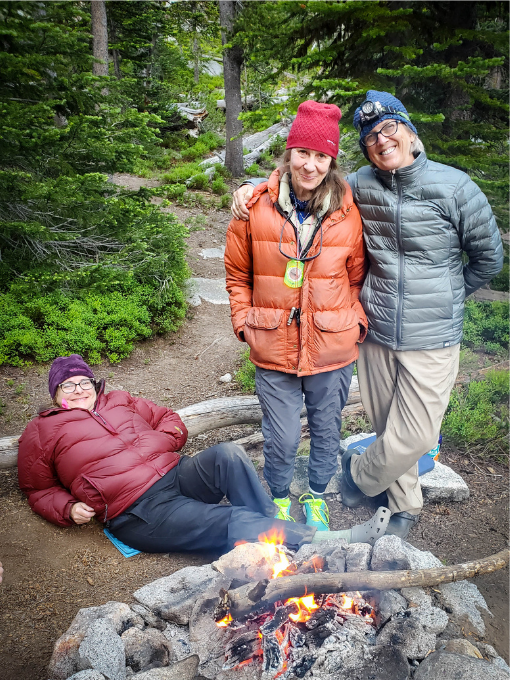 Wander Women Connect
Spending time in nature is a wonderful way to connect with other women and join a growing community of rad ladies. When you strip away the daily routine, technology, and societal expectations, it's easy to relax and be yourself. When you add the peace of nature and the inherent team-building experience of wilderness adventure, the connections that form are truly special! Whether you are with women you've known your whole life or a group of strangers, you will find an enduring sense of community on a Wander Women trip.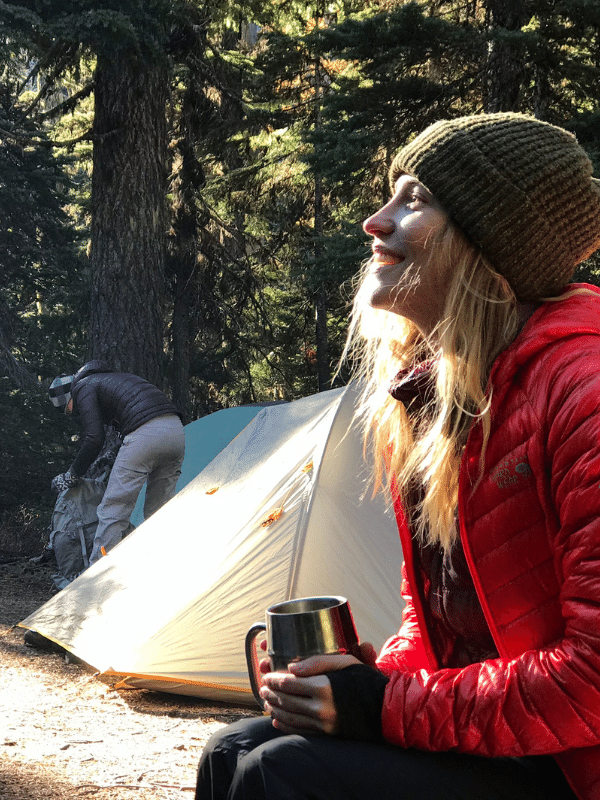 Wander Women Grow
Wander Women trips are an opportunity to take time for yourself to reflect and grow. We facilitate intentional reflection activities and empowering challenges throughout the trip. The all-women setting provides a uniquely supportive environment to ask questions and try new skills. You'll leave feeling empowered, energized, and confident. The Wander Women community is here to build each other up!
It was my first backpacking trip, and the experience was fantastic. Kori and Hannah are very patient and knowledgeable. They taught us how to pack a backpack, set up the tent, cook at our camp site, etc. I learned a lot from them! The trip was well-organized and full of fun activities. Thank you, Kori and Hannah, for organizing the trip and sharing your experiences with us. I will come back for future trips and would definitely recommend Wander Women Adventures to my friends!
– Crystal